Submitted by Themelina Patsalides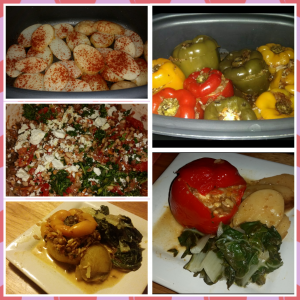 Capsicums stuffed with Lentils, sundried tomatoes and pine nuts
Ingredients
1/2 packet dry lentils (150g) or two tins lentils

200g sundried tomato

200g Feta

4 good sized and red tomatoes

2 TBS Tomato paste

2 onions

5 garlic cloves

200g pumpkin

Basil (handful)

Salt

Pepper

80g pine nuts

2/3 cup rice

Olive oil

Capsicums (8-10)

Potato

Sweet paprika

1 packet french onion soup

2 tablespoons cream

bunch silverbeet
Instructions
1. Cook lentils in boiling water until tender. Otherwise, just use the tinned variety (around 2 tins)

2. In a food processor, place garlic, onion, sundried tomato,Feta, tomatoes, Tomato paste, onions, garlic cloves , pumpkin,Basil,Salt ,Pepper and chop making sure not to over process.

3. Place mix in a bowl. Then add lentils, pine nuts and rice. Mix through. Add a good drizzle of olive and half cup water. You could even add some butter if you prefer that flavour.

4. Line slow cooker with potatoes (just like in picture) and sprinkle with sweet paprika.

5. Cut tops off Capsicums and de rib them. But keep the tops.

6. Stuff the capsicum with the mix and replace the tops. Then layer them on top of the potatoes.

7. Mix french onion soup with 2 cups hot water and cream. Pour over Capsicums.

I cooked these on high for 4 hours. But if you're more organised (unlike me) you could cook on low for 6-8 hours. You've just got to make sure rice is cooked.

Silverbeet - easiest ever recipe my

Mum made all the time when we were kids.

8. I just boiled the silverbeet until just tender (drain) then added a good drizzle olive oil, decent slosh of lemon juice and salt. Mix through. Make sure you don't over cook the silverbeet. Really important!

I don't think I've forgotten anything. This recipe doesn't need to be exact. That's the beauty of it. You could add some bacon for flavour or even chorizo! You could use carrot or zucchini instead of pumpkin. You choose. I like pumpkin as it sweetens the dish.

To serve, place on a plate then drizzle the left over sauce on top of Capsicums. Hope you enjoy it as much as we did!