Submitted by Tina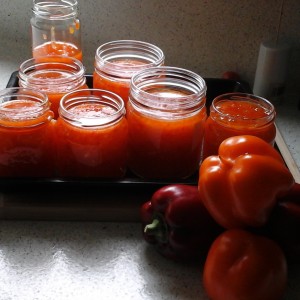 Capsicum Relish
Ingredients
8 Capsicums, any colour you like, 2 onions,1 or 2 deseeded chillies, 1 1/2 cups of water, 2 cups of sugar, 1 1/2 cups of cider vinegar or white vinegar.
Instructions
De seed capsicums and put in food processor and mince til pulpy, same with onions and chilli, put everything into slow cooker.

Cook for 4 hrs on high. Tea Towel under lid

Can be a runny mix so use arrowroot or cornflour to thicken in the last hour.

Great as a dip or s/wich spread, goes with all meats and fish and chips and whatever else takes your fancy.