Submitted by Kimberley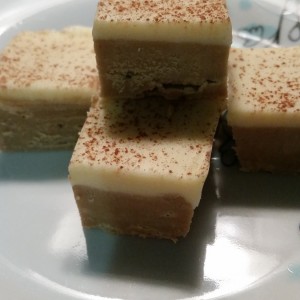 Cappuccino Fudge
Ingredients
800g White chocolate

1x 395g can sweetened condensed milk

2tbsp instant coffee

2tbsp milk

Drinking chocolate to dust
Instructions
Add condensed milk and chocolate to slow cooker.

Cook on high with lid off, stirring every 10mins, until smooth thick consistency. Add 1tbsp milk if mixture is too thick, stir well.

Remove 1/4 of mixture and set aside.

Heat 1-2tbsp milk, and dissolve coffee. Add to slow cooker and mix well.

Line a baking tray with baking paper, and put the coffee fudge mixture in. Put in the freezer until semi-set, then remove and add the plain white chocolate fudge mix.

Dust with drinking chocolate.

Return to fridge to set.