A chicken and cashew Cantonese combination
Submitted by Michelle Sandery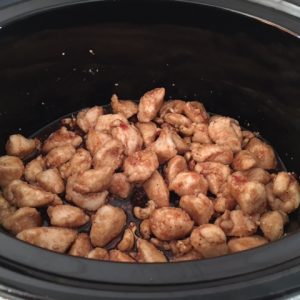 Cantonese Cashew Chicken
A chicken and cashew Cantonese combination
Ingredients
2 large diced chicken breasts

5 teaspoons of cornflour

1 teaspoon of salt

1 teaspoon of pepper

1 cup of soy sauce

8 tablespoons of ketchup

4 tablespoons of sweet chilli sauce

2 teaspoons of garlic flakes or minced garlic

1 teaspoon of minced ginger

75 grams of cashew nuts
Instructions
Although this is a slow cooker recipe, I choose to bread and brown the chicken before putting the chicken in the slow cooker. It doesn't add too much additional prep time, as I brown the chicken while making the sauce.

Step 1:

In a large snap lock bag place: chicken, corn starch and salt and pepper

While in bag, shake the chicken cubes until coated with the mixture.

Step 2:

Place the chicken into a hot saucepan and lightly brown.

Step 3:

While chicken is browning, prepare the sauce by combining the following ingredients in a measuring jug:

Soy sauce, ketchup, sweet chili sauce, garlic or garlic flakes, ginger

*I find a fork works better than a spoon at combining the different sauces together*

Step 4:

Once chicken is browned, add to slow cooker and stir through with the sauce. Cook for one hour on high.

Step 5:

After hour, add 75 grams of cashews. I choose a particular brand of cashew nut from Aldi as they are already seasoned with salt and pepper and add to the taste.

Cook for an additional hour on high. If the chicken looks to be cooking too quickly, turn to low if need be.
Options:
Add stir fry vegetables for the final hour of cooking

Serve on rice or noodles

If the sauce ends up too watery, place a tea towel under the lid.