Submitted by Robyn clark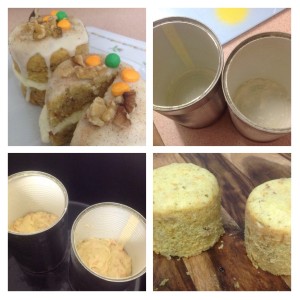 Can Carrot Cakes
Ingredients
2 tablespoons butter

1/4 cup castor sugar

2 tablespoons vegetable oil.

1 egg

1/4 teaspoon vanilla

1/3 cup self raising flour

Pinch salt

1/4 cup finely grated carrot

1/4 teaspoon cinnamon

6 finely chopped walnuts
Instructions
Cooked in a round 5.5 litre SC ( any size cooker works )

2 tinned cans ( I used empty tinned tomato cans 400g)

Wash the cans thoroughly . Remove the labels. Spray with cooking oil and then dust with flour to prevent sticking. An IceCream scoop is great to get the batter in the cans, approx 3 scoops per can.

### I made carrot cakes but you can add whatever you like eg .. Chocolate , fruit etc.. Great for parties or portion control.

Cream the butter , oil and sugar until fluffy. Add the egg and beat again until fluffy. Fold in the rest of the ingredients.

Place approx 3 IceCream scoops per can or just fill cans up to half way. Tap the cans softly on the bench to remove any air bubbles.

Place in your SC on high , tea towel under the lid for 40 - 50 mins (my SC was preheating while I made the batter) .

Cooking time will be longer for more than 2 can cakes .

Allow cakes to cool completely and then gently use a knife to remove them. Decorate however you like.