Submitted by Karen Stuckings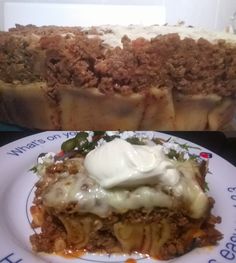 Calamarata Pie/Bake
Ingredients
1 kg mince

1 medium onion chopped

5 shortcut bacon chopped

1 kg blanched skinned chopped tomatoes

140 gram tomato paste

2-3 cloves garlic

2 tablespoons Italian herbs

½ cup beef stock

Salt and pepper to taste

Calamarata pasta raw (I used about 350 grams)

250 grams grated cheese (more or less depending on your taste)

Sour cream for serving
Instructions
Brown mince in a frypan and drain fat. Add onion, bacon and fry for 5 minutes. Add tomatoes, tomato paste, garlic, herbs and stock and mix well.

Allow to simmer while you place pasta shells upright in a lined sc, place them as tight as possible. I double lined mine to give extra strength to make it easier to lift out of sc.

Once you have your shells in, taste sauce and adjust flavour to your taste, pour your mince mixture over. I like to push mixture down with a spoon but with the shells having a large hole it will sink down as it cooks.

Cook with lid on for 4 hours on low. You can check if pasta is cooked by sticking a skewer into the middle.

Place cheese on top and cook until cheese has melted with lid off, about hour. I only put cheese on half as some didnt want cheese.

Turn off sc and leave for 15 minutes to rest, this seems to help with keeping pasta together and I use this time to dish up my salad.

Remove from sc, cut into portions and serve with salad and/or chips and sour cream on top. This was cooked in my 5.5L cookwell sc

Extra tip: Dont throw away broken bits of pasta. Push them into any gaps or break up smaller and sprinkle into your shells before placing mince in.