Submitted by Mareea Mernin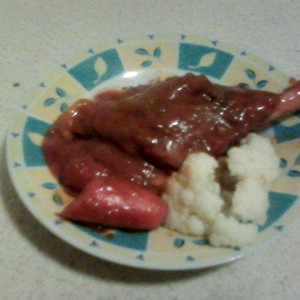 Butter Lamb Shanks
Ingredients
3-4 lamb shanks

3 carrots chopped in thirds.

1tbs butter

1-2 teaspoons of crushed garlic

1 small red onion

1 spring onion

1-2 teaspoons of marrocan spices

1 fresh rosemary stalk

1 jar of Patak's original Mild Butter Chicken simmer sauce

Salt and pepper
Instructions
Place a good knob of butter in the slow cooker along with the garlic, let that melt.

Trim fat of the shanks and seal them in a hot frying pan.

Rub the marroccan spice over the shanks then add to the slow cooker.

Pour the jar of butter sauce over the shanks and 1/4 of the jar of water.

Add the diced red onion and chopped spring onion. Some salt and pepper. Cut Rosemary stalk into 3-4 pieces and place on top of each shank.

Cook on high for first hour and then on low for another 4-5hrs, I added carrots 3hrs before serving.

Serve on a bed of your favorite mash, cauliflower and the carrots. Yum enjoy.