Submitted by Alyssa Dahiya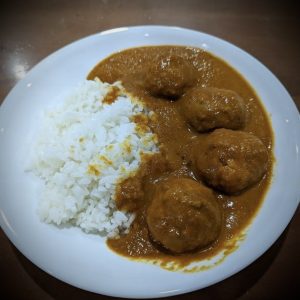 Butter Chicken Meatballs
Ingredients
—MEATBALLS

1kg chicken mince

½ cup panko bread crumbs

1 egg

3 TBS fresh chopped coriander

Salt, pepper

—SAUCE

4 TBS butter

1 onion, finely minced

1 chilli, de-seeded and finely chopped

3 TSP minced garlic or 3 garlic cloves

2 tsp grated ginger

2tsp garam masala

1 TSP turmeric

1 can tomato puree

2 TBS tomato paste

½ cup water

Salt, pepper

1 black cardamom

2 green cardamom

2 whole cloves

1 bay leaf

1 star anise

small piece of cinnamon stick

half a TSP ground cumin

½ cup cooking cream or coconut cream.
Instructions
MEATBALLS

Combine all ingredients together and form into small balls. Set aside.

SAUCE

Melt the butter over medium heat and add onion, garlic, ginger, and chilli.

Saute for 5 minutes then add garam masala and turmeric. Fry until fragrant.

Stir in tomato paste, tomato puree and water.

Season with salt and pepper.

Add the black cardamom, green cardamom, cloves, bay leaf, star anise, cinnamon stick and ground cumin to the sauce while boiling. I removed these ones before adding the sauce to the slow cooker (these added extras aren't necessary but I really like the flavours)

Bring to a boil and add to a heated slow cooker.

Add the meatballs and cook on low for 3 hours, adding cream or coconut cream half hour before serving.