Submitted by Terri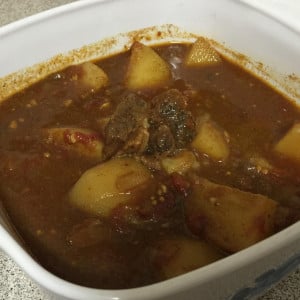 Burmese Curry
Ingredients
Spice Paste
3 tsp sweet paprika

3 tsp coriander powder

3 tsp cumin powder

2 tsp garam marsala

1 tsp ground ginger

1 tsp of turmeric

1 tsp salt

1 tsp chili powder or 1-2 chilies finely chopped (remove seeds if you don't want it too hot)

Combine with water to make 1 cup
Ingredents
2 tbs Olive Oil

2 large onions, cut 1 inch pieces

3 cloves garlic, minced

3 tsp yellow mustard seeds

750g – 1kg of stewing beef cut into cubes

Potato's – as many as you want

1 lemon – juiced

Small tin peeled tomatoes

1 tbsp tomato paste

Approx ¼ - ½ cup water

Salt and pepper to taste

Crusty bread to serve
Instructions
You can use a searing slow cooker or deep frypan to start:

Cook the onions, garlic and mustard seeds in the oil until soft.

Add spice paste to onion mixture and stir well.

Add meat and stir till until coated, then add remaining ingredients and stir to combine. Place in

Slow cooker and cook on high for 4-6 hours or low for 6-8 hours.

Serve with crusty bread.