Submitted by Robyn Clark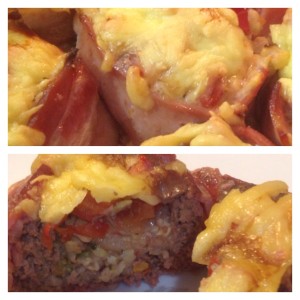 Burger Baskets
Ingredients
500 g mince (makes 6 baskets)

1/4 jar mild salsa ( use whatever strength you like)

1 teaspoon minced garlic

1 egg.

Mix all together and form 6 large balls.

6-8 long rasher bacon.
Instructions
Cut the largest end of the bacon off and place down as the bottom of your basket. Place meatball in the centre and press down with a glass and then mould the mince up and around the glass to form a basket shape. Use the rest of your bacon rasher and wrap around the outside. It will stick there by itself. Lightly twist the glass and ease it out. You may have to shape a bit more after this .Repeat to make 6.

Make whatever fillings you like . I lightly fried the bacon bits left over with garlic and onion. I also filled them with grated zucchini , cheese , tomato and some favourite herbs and spices.

Line your SC with foil , lightly spray and bring the foil up the sides a bit so it's easy to lift them out when done.

Cook on High 2 hours , check after 1 1/2 as all SC cook differently. Place under the griller for a few minutes when done. They do have moisture come out of them when cooking but lovely and moist to eat. If you want them more burger like than meatloaf like then omit the salsa and just add herbs and spices to the mince and use a leaner mince. Serve with creamy mash and veges or salad.