Submitted by Dayna Sinclair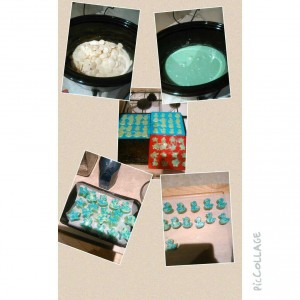 Bubblegum Fudge
Ingredients
2x bags 250g white choc melts

1x can condensed milk

1x tbsp butter or marg

1x capful vanilla

2x capful bubblegum flavouring

3x drops blue food colour
Instructions
Add all ingredients into cooker on low with the lid off for approx an hour and a half stirring every 15 mins.

I spooned mine into molds and let set in fridge for several hours.

Once set I took out of the mold cut off any excess and dipped in blue sugar crystals.