Slow Cooked Broccoli and Spinach Soup
Recipe submitted by Natalie Betteridge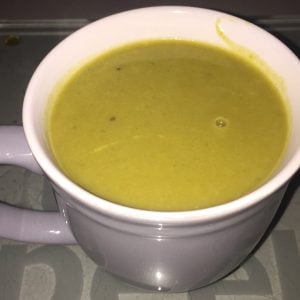 Broccoli and Spinach soup.
Slow Cooked Broccoli and Spinach Soup
Ingredients
1 x large bag baby spinach

1 kg broccoli florets

1 x brown onion

3 x vegetable stock cubes

1.5 litres water

5 x medium all rounder potatoes

Salt and pepper to taste

Large knob of butter

1/2 cup mature cheddar cheese.
Instructions
Finely slice onions.

Peel & quarter potatoes.

Wash baby spinach.

Boil water and add in a jug with stock cubes. (Additional water may be added if needed).

Place all ingredients (except cheese & butter) into the slow cooker on high for 4 hours.

After 4 hours mix in knob of butter.

Turn slow cooker down to low, stir and leave for a further hour.

Grate 1/2 cup of mature cheese.

After an hour blitz your mixture in a blender or with a stick blender until smooth & add in the cheese. Stir through until cheese is melted.

Serve.