Breville SEARING Slow Cooker 6L
Breville are an absolute power house in providing amazing slow cookers!
From traditional ceramic cookers, to smart digital cookers, to stove top searing slow cookers to this … a slow cooker that sears IN itself! No need for stoves or other appliances, this one does it all 🙂
Let's take a look at all the features packed into this slow cooker:
FEATURES
A large family sized 6L capacity removable cooking bowl. This cooking bowl is aluminium with a non stick coating and cool touch handles. It is not for stove top or oven usage so only use it inside the slow cooker unit itself. Dishwasher cleaning is not recommended for this unit to preserve the non stick coating.
The cooking bowl then has a toughened glass lid with a large knob handle and a steam vent on the lid. Great for peeking at what's cooking without needing to lift the lid and release heat.
What surprised me was the unique dual locking lid handles on this unit! The two sliding locks on either side of the lid lock it down securely in place during cooking or for safe storage. This also creates a really firm seal on your cooking which I liked.
This slow cooker comes with a large stainless steel trivet included (see photo below) – perfect for steaming on or elevating your slow cooking from cooking liquids for some recipes this is needed in
An easy to use, digital control panel with 5 levels of BROWNING settings, (Gentle, Low, Medium, Saute, High Sear), 2 levels of SLOW COOKING (low, high) and also a YOGHURT setting and a STEAMING setting! All this in one machine! More on these settings to follow.
MODES OF USE

BROWNING
Many people like to brown/seal/sear their meat or even spices prior to slow cooking.
Check out our blog HERE on all the pros and cons of browning so you can decide what's right for you 🙂
If you are someone who likes to brown or sear, the option this slow cooker gives you to do so in the same unit you are slow cooking in is sensational! No extra dishes to worry about and no flavour left behind in other cooking pans.
As mentioned above there are 5 levels of browning settings for this Breville Searing Slow Cooker
Gentle: 100 degrees C
Low: 120 degrees C
Medium: 150 degrees C
Saute: 170 degrees C
High Sear: 180 degrees C
Default time for all of these is 15mins however you can manually adjust them, in 5 minute intervals, to between 5-60mins to suit your individual recipe needs.
Once the browning time is elapsed it will beep then switch to standby mode.
You can also cancel it at any time to then move into your next mode of cooking.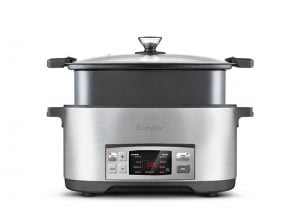 SLOW COOKING
The Breville Searing slow cooker gives you the option of two slow cooking settings, LOW or HIGH, both with a built in move to KEEP WARM after cooking time
The LOW setting gently heats food for an extended period of time without overcooking or burning. The low setting default is 8hrs but gives you the option to program between 6-14hrs of cooking time, in 10 minute intervals, on this machine.
The HIGH setting will cook food in approximately half the time required and some foods may boil on this setting so may require extra liquid and checking throughout cooking time. The high setting default is 6hrs but gives you the option to program between 2-8hrs of cooking time, in 10 minute intervals, on this machine.
Both settings will then automatically move to KEEP WARM for up to 4hrs before switching to standby mode.
YOGHURT
Have you ever made yoghurt in your slow cooker? I made my first batch while testing this mode and oh my!
It was so easy! So affordable! And so yummy!
The yoghurt default setting is for 8hrs but can be manually set, in 10 minute intervals, to between 6-12hrs.
NOTE: This setting is only for yoghurt. Do not try to cook anything at this low temp for food safety.
STEAMING
I admit, I LOVED this steaming function. My kids love dumplings and dim sims and I was able to have these from freezer to plate in under 20mins while I spent that time getting something else done.
You can also steam vegetables and poultry and the user manual has a really extensive cooking time guide for dozens of different items to steam.
I love that it comes with its own steaming rack with high handles that makes it easy to place in and lift out (with oven mitts) of the cooker.
You can boil the water in the Breville Searing slow cooker first (takes around 10minutes) then add the food, or add it from the start.
The default time for the steaming setting is 20mins but can manually be set, in 1 minute intervals, for between 10-120minutes.
The Breville Searing slow cooker also comes with a detailed user guide, recipe cards and a 12 month replacement warranty.
RRP $179
I found this to be a fantastic slow cooker with lots of great features!
It cooked a little slower than some machine so it's the perfect cooker for those out of the house all day at work etc or for whatever reason need long cooking times with great results
I wouldn't hesitate to recommend it to anyone wanting a next level slow cooker with extra features and great cooking results.