Submitted by Laraine Palmer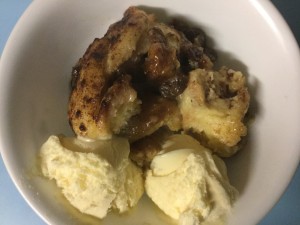 Bread and Butter Pudding
Ingredients
1 & 1/2 cups milk

1/4 cup sugar

1 teaspoon vanilla

3 eggs

1/2 cup thickened cream

1/2 cup sultanas

8 thin slices buttered bread

Jam

Icing sugar or caster sugar

Cinnamon

A little extra butter for greasing slow cooker.
Instructions
Grease inside slow cooker with butter.

Combine milk, sugar and vanilla in saucepan. Stir to dissolve sugar, slowly bring to the boil. Immediately remove from heat. Cool.

Beat together eggs and cream then gradually,whisk in milk mixture.

Spread half the bread with jam and cut in quarters. Place in slow cooker, slightly overlapping layers. Sprinkle with sultanas. Repeat process with the remaining non jammed bread and sultanas.

Gently pour cream mixture over bread. Press down lightly to compress and coat well in cream mix.

Cook on low for 2.5 hours. At 2 hours, sprinkle with cinnamon and icing sugar or caster sugar.

*Serve warm or cold with cream or ice cream.