Submitted by Jem Natividad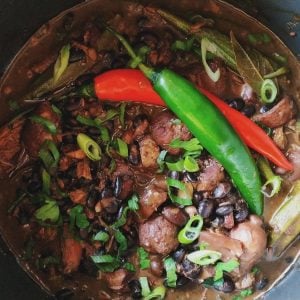 Brazilian Feijoada (Meat & Black Bean Stew)
Ingredients
100g smoked speck

400g smoked pork sausages

400g pork belly

400g duck breast

1 bunch parsley, chopped

1 bunch shallots, chopped

1 onion, diced

4-6 cloves garlic, crushed

A few bay leaves

400g dried black beans

Water

1 cup orange juice

Some okra (optional)

A couple of chillies (optional)

Cooking oil

Red wine vinegar

Salt & pepper
Instructions
- Slice the meats up in varying size (speck the smallest, next sausages, then pork belly, and duck breast the largest)

- With your slow cooker on brown / sear, heat up 1 tsp of cooking oil, then brown, in order, adding the next meat into the slow cooker - speck, then sausages, then pork belly, and duck breast (Pic 3)

- Add parsley, garlic, onions, shallots, bay leaves, and chilli (if you're using it) and sautee for a few minutes (Pic 4 + 5)

- Add salt & pepper to taste

- Add black beans (Pic 6), orange juice, and enough water to just about cover everything (Pic 7)

- Slow cook on low for 6-8 hours

- For the last hour, add okra and whole chillies (if you're using them)

- Garnish with parsley and spring onion

Best served with white rice, a slice of orange, and some greens on the side.
Notes
- you can apply this to lots of different meat combinations - the general idea is to have a variety, and include smoked and salted meats where you can

- if using chicken, use thigh, not breast

- when adding liquid, I like adding a shot of various alcohols to increase the depth of flavour. In this one I used a shot of whiskey, a shot of rum, and a shot of white wine

- here's what I like using as secret ingredients; a shot of espresso and a tablespoon of raw cacao powder; add in the last hour of cooking

Every cultural tradition appears to have a 'meat and beans' recipe (pork and beans, Chinese beef & black beans, French cassoulet, and on & on).

This is a Brazilian Feijoada. Feijoada's tradition actually carries from Roman Empire era cooking, and echoed through Portuguese colonialism. Bold, and a complexity that comes from the richness of the meats and beans. Comfort food perfect for slow cooking, be it bruisingly cold winters or caiprinha sipping summer.