Submitted by Joanne Talarico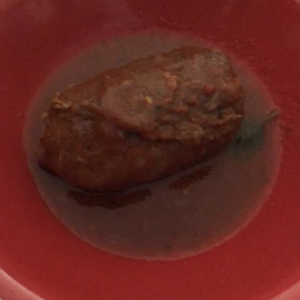 Braciole
Ingredients
1 kilo of beef Schnitzel

1 x 200g packet of stuffing mixture

3 eggs

1 bag of fresh spinach 280g

150 grams of prosciutto

fresh basil leaves

250 grams of mozzarella cheese ( I buy the mozzarella ball/pear and slice it myself

2 x 680g bottles of Passata tomato sauce

2 Tbsp Italian mixed herbs

Salt and pepper to taste
Instructions
Pound out the meat and season with salt and pepper.

Add 3 eggs to the stuffing and mix well.

Lay meat out and start layering the ingredients. Prosciutto, spinach, basil, mozzarella and then stuffing mixture. Fold the ends of the prosciutto over the filling ( to stop it from leaking out) then roll up and secure with toothpicks.

Add pasatta, 4 basil leaves, 2 tablespoons of Italian mixed herbs and some salt and pepper to the slow cooker.

Stir well.

Sear the rolls off and add to slow cooker.

Cook for 6 to 7 hours on low.

I use the tea towel trick only when I am home.

Serve with crispy bread, mashed potato or pasta.