Crockpot Cobbler
Submitted by Mary Lee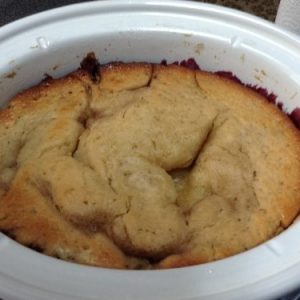 Blueberry Cobbler
Crockpot cobbler
Ingredients
1 can blueberry pie filling

1 stick/113g butter

1 cup/132g self rising flour

1 cup/200g sugar

1 cup/240g buttermilk

1 tsp/4.20g vanilla extract

1 tsp/2.60 cinnamon
Instructions
Melt butter in crockpot

Pour blueberry pie filling on top of butter

Mix all other ingredients in large bowl. Mix well by hand.

Pour mixture on top of filling.

Cook 3 1/2 hours on high.

For a denser cobbler do not use tea towel."

For more of a cake texture use tea towel.

I used a 2 1/2 qt crockpot. Prefect size for this recipe. If you have a 5 qt or larger I would double the recipe.