Submitted by Candice Burgess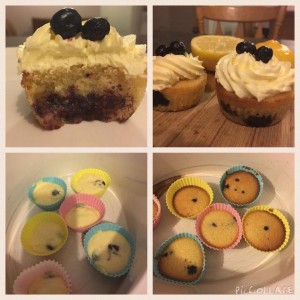 Blueberry and Lemon Buttercream Cupcakes
Ingredients
Cupcakes :

1 2/3 cups plain flour

1 cup sugar

3/4 tsp baking soda

1 tsp baking powder

3/4 cup salted butter, room temperature

3 egg whites

1/2 tsp vanilla extract

1/2 cup sour cream

1/2 cup milk

3 tbsp lemon juice

1 tbsp lemon zest

1 1/2 cups blueberries

Lemon Buttercream :

1 cup unsalted butter, room temperature

4 cups icing sugar

1 tsp finely grated lemon zest

3 tbsp lemon juice ( or 1 tsp lemon flavouring )

1/4 tsp vanilla

3 tbs thickened cream
Instructions
Whisk together flour, sugar, baking soda and baking powder in a large mixing bowl.

Add butter, egg whites, vanilla, sour cream, milk, lemon juice and zest and mix on medium speed for a few minutes until smooth then fold the blueberries into the batter, Spoon silicone cupcake holders a little more than half way.

Bake for 1 hour 20 mins on high with tea towel under lid. ( My sc cooks fast... haha, if that makes sense so keep an eye on them )

Best the unsalted butter for around 40 seconds then add :

two cups of icing and mix until smooth.

Add lemon juice, lemon zest vanilla and 2 tbs of cream and mix until smooth.

Add remaining icing and cream then mix until smooth.

Ice cupcakes when cool.