Westinghouse 3 Pot Slow Cooker in Black Stainless 
You may have already seen the awesome 3 Pot Slow Cooker from  Westinghouse Small Appliances but this one is the premium model of that which delivers you even more than before!
THREE slow cookers in one amazing unit still with both models, but with this beauty she is a stunning gleaming black stainless steel finish (so pretty!) and it introduces the AUTO feature which the existing model didn't have.
Let me tell you more 🙂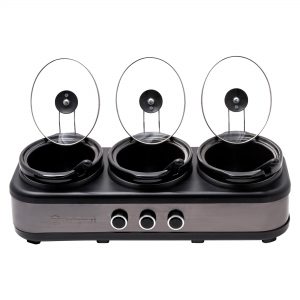 THREE different recipes at once – think party entertaining made easy.  Let your guests self serve from an assortment of hot foods while you enjoy the party with them instead of being stuck in the kitchen
or
THREE courses at once – think entrée, main and dessert.  Make your next dinner party a breeze with a warming soup entrée, lasagne main and a decadent pudding dessert all ready to simply serve to your guests
or
THREE parts of the one meal at once – think main and two sides all taken care of.
Family dinner time made easy
and now
THREE different cooking mode options – High, Low and AUTO!
Auto will begin cooking your food on high until optimal temperature is reached (usually 2hrs) then it will automatically switch to low for the remainder of cooking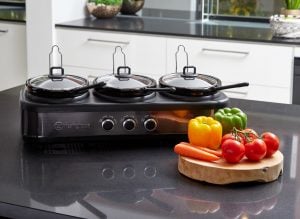 This 3 pot system also has some great inclusions and features that others don't
3 great non scratch, large plastic serving spoons were included with the cooker
As were 3 lid holders to fit to each bowl
And  I noticed 3 small opening slots, one in each lid/bowl combo, to fit a serving spoon through into the pot while still having the lid in place – brilliant!
Yet another 3 unique reasons to love this Westinghouse triple cooker ☺





Features
3 x 2.5L ceramic cooking pots in one impressive rectangular operation unit

Tempered glass lids for each cooking pot to enable you to check your dinner without lifting the lids 

Lid holders to keep lids propped up while serving, allowing any run off to flow back into the bowl, meaning less mess on the kitchen bench

3 individual control knobs to operate the three bowls independently

Cool touch handles and knobs

3 temperature settings for each – HIGH, LOW and AUTO
I found the unit great to cook with.
The unit was easy to store (though is quite heavy so take care when moving) and it looked stunning on my kitchen bench!
I love that each unit had it's individual control option so that I could use one or all three as I wished.
What a great unit!
RRP: $149.95

Stockists include:
Harvey Norman, Retravision, Good Guys, Costco, Betta Electrical, Joyce Mayne, Kitchen Warehouse and other appliance stores
Online retailers including Catch of the Day, KOGAN and Appliances Online
If your store is out of stock ask them to order it in for you