Submitted by Ara Haddon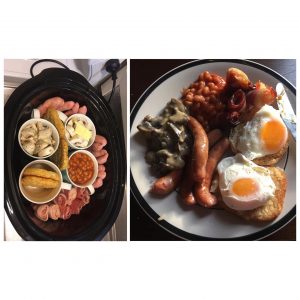 Big Breakfast ~ Slow Cooker Style
Ingredients
12 sausages

6 hashbrowns

12 rashes of bacon (rolled as in picture)

2 cups thick sliced mushrooms

2T butter

1 tsp minced garlic

4T cream

1 cup baked beans
Extras
Cups and baking paper

Toast and eggs to serve with (optional)
Instructions
Line slow cooker with baking paper

Stand sausages around the side, leaning on paper

Stand bacon rolls

Divide mushrooms, garlic and butter into two large coffee cups and place cups in slow cooker

Place baked beans in cup and place in slow cooker

Hashbrowns can be also placed in cup or around sides (see notes)

Cooked in large 6L slow cooker

Turned on LOW at 11pm cook for approx 8hrs

NOTE some slow cookers may cook hotter than others so a good idea would be to trial this recipe first in waking hours (eg a breakfast for dinner kind of meal one day #yum) so you know exactly how long your slow cooker takes to cook everything to just how you like it as it will vary

To serve thicken mushroom sauce over stove for a few minutes while you toast some bread and poach some eggs (see notes)
Notes by Ara
Hash browns - I want to try putting them along the edges as well next time to see if that helps them get crispy. They were still delicious as is.

Place either sliced potatoes or more hashbrowns underneath the sausages and bacon to soak up the liquid that collects at the bottom. They can be eaten too of you don't mind soggy potatoes.

I turned the slow cooker on low at 11pm, I got up at 8am and it looked like it had been ready for awhile. we ate at around 9am ?

I found it convenient and less messy. Faster wise it's about 8hrs cooking, compared to 45 mins if you make it the traditional way but i did spend that 9 hrs sleeping ?

Poaching eggs only takes minutes (same length as toasting bread) and I did at the same time as thickening the mushroom sauce so all in all the time we spent in the morning preparing breakfast was 10mins from cracking the eggs to loading our plates

Breakfast was ready in minutes!

Verdict: Best.Idea.ever! This will be us every big breakfast morning.