Slow Cooked Butter Chicken to die for.
Submitted by Kelly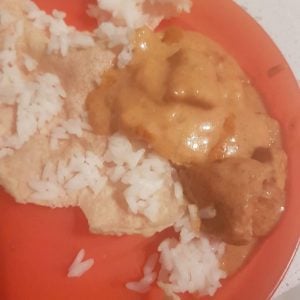 Best Butter Chicken
Slow Cooked Butter Chicken to die for.
Ingredients
700 g chicken breasts, cut into bite-sized pieces

1/2 tub of Ghee

1 large onion, diced

4 to 5 garlic cloves, crushed

2 tsp garam masala

1 tsp ground cardamom

1 tsp ground coriander

1 tsp ground ginger

1 tsp ground tumeric

1 tsp ground cumin

½ tsp paprika

1 pinch of cayenne pepper

4 tbsp tomato paste

1 tsp salt

2 tbsp lemon juice

1 x 400 ml can coconut cream
Instructions
1. Heat the half a tub of Ghee in large saucepan over medium heat.

2. Add the onion and garlic and sauté for five minutes until translucent.

3. Turn the heat down to low and stir in spices.

4. Add the tomato paste and cook for one minute.

5. Add the salt, lemon juice, and mix well.

6. Place the cut up chicken in the slow cooker and combine with the mixture from the pan.

7. Cook on low for 4 to 5 hours stirring every hour.

8. In the last hour add the coconut cream and mix through and cook until the sauce has thickened.

Serve with plain rice and or poppadoms.