A beef stroganoff to enjoy on your favourite pasta
Submitted by Kylie Walker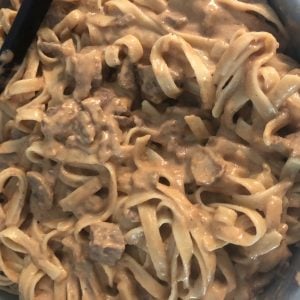 Beef Stroganoff
A beef stroganoff to enjoy on your favourite pasta
Ingredients
1kg beef (diced)

2 tablespoon tomato paste

3 tablespoon Worcestershire sauce

1 tablespoon garlic

1 tablespoon mustard

1/2 tablespoon dried parsley

1/2 cup white wine

2 cups stock

1 block of Philadelphia

1 tablespoon paprika

375g mushrooms

To serve: Cooked pasta
Instructions
Add all ingredients leaving out beef, Philadelphia and mushrooms, mix with a wooden spoon until ingredients are combined.

Add beef and cubed Philadelphia.

Cook on high for 2 hours add mushrooms, cook for a further 2 hours on high.

Add 2 tablespoons of corn flour to thicken (mix in a cup with water first).

Serve with 500g of cooked fettuccine and mix through sauce.

Optional: Add more mushroom and beef if you don't want to much sauce.