Submitted by Denise Roberts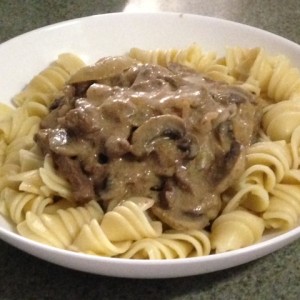 Beef Stroganoff
Ingredients
1/2 Onion, thinly sliced

250g Mushrooms, thinly sliced

300g Stir Fry Beef Strips

2 teaspoons Plain Flour

1 cups Reduced Salt Beef Stock

2 teaspoons Worcestershire Sauce

2 teaspoons Tomato Paste

1 and a half tablespoons Extra Light Sour Cream
Instructions
Place beef, onion, plain flour stock, Worcestershire sauce and tomato paste into the slow cooker.

Stir to combine all ingredients.

Cook on low for 3 hrs and then add mushrooms for final hour.

20mins before serving stir in sour cream.

Tip: for a thicker sauce use a tea towel under the lid.

Note: Made with a Contempo 5.5L SC. Cooks at higher heat. Times may vary.