Hearty beef stew!
Submitted by Ange Marie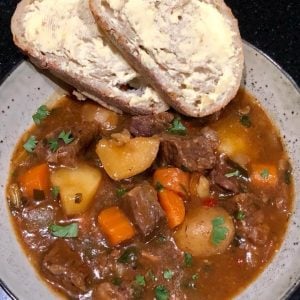 Beef Stew
Hearty beef stew!
Ingredients
3 Tbsp olive oil

1kg cubed chuck steak (3cm cubes)

1 med onion, diced

3 cloves garlic, minced

1/4 cup red wine

3 cups real beef stock

2 Tbsp tomato paste

1 Tbsp Worcestershire sauce

1 1/2 tsp sugar

1/2 tsp smoked paprika

1/2 tsp salt

1/2 tsp cracked pepper

8 small red potatoes, quartered

4 small carrots, cut into chunks

1 celery stalk sliced, leaves as well

1 small zucchini, cut into chunks

1/4 cup diced red capsicum

2 Tbsp cornflour (To thicken at the end)

FRESH HERBS (If using dry herbs 1/2 the amounts or use 1 1/2 tbsp mixed herbs)

1 tbsp sage,

1/2 tbsp thyme leaves

1 1/2 tbsp each of oregano leaves, garlic chives, chives roughly chopped.

3 bay leaves

About 12cm stalk of rosemary or 1 tsp dried.

3 tbsp finely chopped parsley (Add at the end of cooking time)

Crusty bread (optional)
Instructions
Heat oil in large pan or in slow cooker bowl ( If it has a sear mode) on medium-high heat. Season beef. Working in 2 batches, brown meat on all sides, 6 minutes. Remove to plate.

Add onion to pan/bowl and reduce heat to low. Cook, stirring, until softened, 3 minutes. Add garlic and cook, stirring, 1 minute. (If using a pan after the 1 minute mark pour in some of the beef stock to deglaze the pan & pour in to slow cooker bowl. (The rest of the directions are for the slow cooker only)

Pour in wine. Add stock, tomato paste, Worcestershire, sugar, paprika, salt, and pepper.

Return beef to slow cooker bowl add vegetables & herbs (except parsley). Stir well. Cook on low 7 hrs

Remove rosemary stalk & bay leaves, if needed thicken with cornflour mixed in 1/4 cup water and let cook for another 5 minutes..Add parsley & season to taste if needed.

Serve with some crusty bread.

You could cut the meat smaller if you like and add what ever vegetables you have on hand. You can also skip the browning sections and just put everything in the slow cooker to save some time.