Submitted by Monika McCann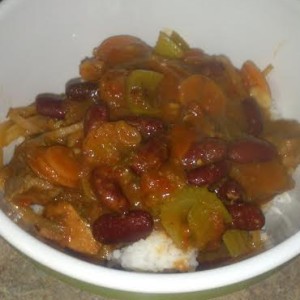 Beef Pot
Ingredients
500g beef, diced

1 bacon rasher, diced

2 tbsp flour

Salt, pepper

3-4 carrots, in rings

1-2 tbsp sugar

1 large onion, cut in rings

1 red capsicum, diced

3-4 stalks of celery, sliced

1 tin tomatoes (once refilled with boiling water + 2 tsp stock powder/cubes)

Oil

1 bay leave

1 tin kidney beans

Parsley, chopped
Instructions
Put flour, salt and pepper in a plastic bag, shake, put beef into bag and shake until coated.

Pan fry bacon in oil, add beef til lightly browned, move to slow cooker and add beans.

Fry onions in bacon oil, brown slightly, add remaining vegetables and simmer for 5-10 minutes.

Add tomatoes, sugar and stock. Season to taste with salt and pepper, add parsley.

Transfer to slow cooker.

Cook on low for 3-4 hours, then 1 hour on high. Serve over rice.