Submitted by Katy Kat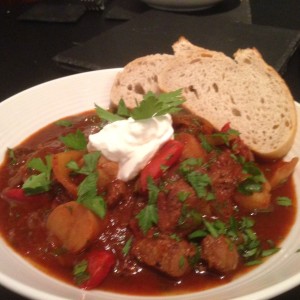 Beef Goulash
Ingredients
500g braising steak

500g new potatoes, halved

1 tbsp sunflower oil

3 onions cut into wedges

3 large garlic cloves, crushed

2 tsp hot smoked paprika

1 tbsp paprika

2 tsp spicy chipotle chilli paste (optional)

1 beef stock pot

200ml water

250ml red wine

500g carton of passata

3 tbsp tomato puree

2 bay leaves

2 red and 1 green pepper cut into chunks

Chopped parsley

Half fat crème fraiche dolloped on top to serve
Instructions
Heat the oil in a large pan and add the steak, sprinkle over the paprika and brown for a few minutes then transfer to sc.

Add onions to the pan with a large splash of the red wine to loosen any paprika bits and add the chipotle paste if using, saut for a few minutes then add to the sc (I then swish some more red wine round the pan for a minute or two then add this to the sc too).

Add all the other ingredients to the sc except the pepper chunks and parsley.

Cook on low for 6 or 7 hrs then add the pepper chunks and cook for a further 1 hour.

Add the fresh chopped parsley just before serving.

** Alternative - if you do not wish to use potatoes (I add them to make it a one pot meal) then add 1kg of beef instead of 500g.