Submitted by Sherrie Sutcliffe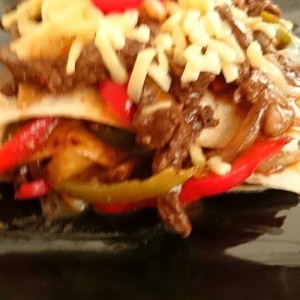 Beef Fajita Tortilla Stack
Ingredients
1 kg rump

2 large onions

1 green capsicum

1 red capsicum

1 tin pineapple pieces

1 cup of the pineapple juice

1 cup BBQ sauce

Cheddar Cheese (as much as desired)
Instructions
Thinly slice rump and onions and place in slow cooker with the chopped green and red capsicums.

Add pineapple pieces and juice and lastly, the BBQ sauce.

Cook on low 4 hours

Thicken with a little corn flour, if needed.

*Remove beef and set aside briefly. Wipe over slow cooker bowl a little with paper towel to remove any excess cooking liquids. Do not use cold water or it can crack*

Then stack tortillas, beef and cheese, *alternating layers in your slow cooker as you build*

Repeat till all used up.

*This stack can be done in slow cooker on high for approx 45mins or until heated through and cheese melted*

Or put in oven to melt cheese.