Submitted by Robyn Clark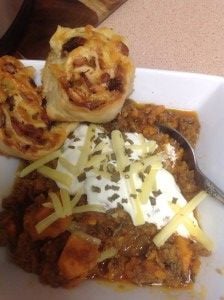 Beef and Sweet Potato Chilli
Ingredients
500 - 700 g mince ( works with Turkey ,pork ,chicken or beef)

2 onions chopped

2 tablespoons vegetable oil

1 sachet tomato paste

1 tin crushed tomatoes

3 cloves garlic

1/2 teaspoon oregano

1-2 teaspoons chilli ( add to your own taste)

1/4 teaspoon ginger ( optional)

Salt and pepper

3-4 medium sweet potatoes, peeled and chopped into large cubes
Instructions
Blend the onion and spices and mix with the meat.

Place in your SC and break up so its not sitting flat on the bottom.

Top with the sweet potatoes .

Blend the tomato paste and tinned tomatoes together and pour over the potatoes.. ( I also added more chilli to the tomato mixture) .

Cook on low 8-10 hours until the sweet potato is tender. ( Cook on high until tender if in a hurry).

Serve in bowls and top with coriander , avocado , sour cream , grated cheese or Greek yoghurt or combinations of everything.