Submitted by Sherrie sutcliffe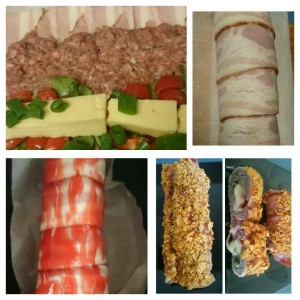 Beef and bacon wrapped sushi roll
Ingredients
1/2 -1 kg mince. Depending on thickness, I actually used 4 seasoned beef patties and flatten them out

7 bacon rashers

Thick stick of cheese to go across the mince from one side to another

Chopped cherry tomatoes and chopped shallots

Masterfoods sweet plum marinade

Corn chips crushed
Instructions
Layer bacon on baking paper,pat down mince over top of bacon,add a thick stick of cheese across the mince, then garnish with tomatoes and shallots. Roll up tightly.

Pour a generous coating of sweet plum sauce all over roll, add to Sc on a sheet of baking paper,occasionally adding more sauce.

When cooked add a little more sauce and then roll in crushed corn chips.