Submitted by Wendy McGinnes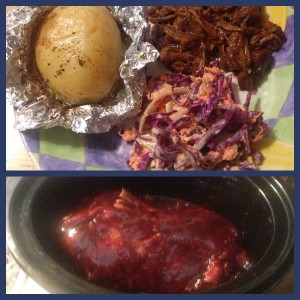 BBQ Honey Bourbon Pulled Pork
Ingredients
Large pork shoulder

500ml smoky BBQ sauce

60+ ml bourbon

60+ ml honey

Bush seasoning
Instructions
Rub pork shoulder in bush seasoning and place in slow cooker.

Mix smoky BBQ sauce with honey and bourbon to taste.

Pour sauce mix over pork and cook on LOW for 8-9 hours

Remove pork and shred.

Remove excess sauce, leaving a bit in there to mix.

Retain some sauce in case more is needed later.

Return pork to residual sauce and stir through.

Cook on HIGH and reduce for another 30-60 minutes until perfect meat/sauce ratio is met

Serve with baked potato and homemade coleslaw.