Submitted by alyse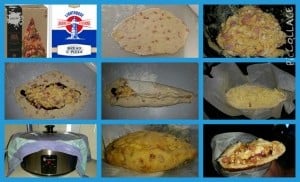 BBQ bacon & egg pizza pocket wrap
Ingredients
Pizza dough mix

Diced bacon pieces from deli about 1/3 cup

2 cups grated cheese

Salt & pepper

2-3 eggs

1 big bacon rasher (not the shortcut piece) diced

BBQ sauce
Instructions
BBQ BACON & EGG PIZZA POCKET/WRAP

1. Mix up dough as per packet instructions (no need to rest dough)

2. Break off about a handful of dough & add some grated cheese & bacon diced pieces and knead till all mixed well then roll flat, place your baking paper under the dough mix now is a good idea 🙂

3. Spread bbq sauce in middle

4. Whisk 2-3 eggs & salt/pepper & quickly scramble them in a pan along with a handful of bacon rashers & add some grated cheese so it melts through you don't want to over cook the eggs.

5. Pour mixture into dough base and spread out.

6. Fold up sides of dough and knead together to join up and tuck the smaller right in.

7. Sprinkle grated cheese over the top

8. Place into slow cooker and cook on HIGH tea towel under lid for 1.5hours. Or on low for about 2hr 15mins.