Submitted by Simon Christie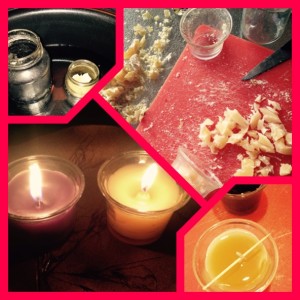 Basic Recycled Candles
Ingredients
Enough wick (with excess for trimming) from cheap candles (I used one from a box of six) Nb. More wick will be necessary for multiple candles or depth.

Any old candles you have no further use for.

One 375ml glass jar or seperate jars to suit colours or scents.

Your preferred glass safe candle moulds.
Instructions
WAX RECOVERY.

Carefully! Using a screwdriver/knife/spoon, pry away or shard off, in small sections, your old candles.

Keep your colours separate for now.

Remove all old wicks or contaminates NOW.

If you have recycled moulds you have just recovered soak them in hot soapy water now. (I used a steel bowl for the ones pictured here).

Put your recovered wax into your jar/jars.

Use separate jars for colours or combine.

Place directly into slow cooker insert and fill with warm water to halfway up the side of your SMALLEST jar.

Using a tea towel under the lid, turn your unit on HIGH for 2 hours.... Or until fully liquified.

HOLDER RECOVERY.

If you are soaking old holders, take them out now and wipe with paper towel to clean.

WICK RECOVERY.

Carefully cut away, in small sections, the wick from your cheapo candle. Cut into lengths to suit mould depths plus 2cm additional.

Spear a skewer/toothpick through one end of each length as a 'support '.

Caution!!

The wax is VERY HOT!

Carefully! Remove your melting jars and pour into your moulds. You can mix scents in before pouring the wax into your moulds if you like.

Place wicks into centres of wax filled moulds, resting the 'supports' across the rim.

Allow to cool in a safe place for a few hours till fully set.

Remove 'supports' and use in a safe environment.

*** Always treat flame as a potential danger. Always practice safety.