Submitted by Robyn Clark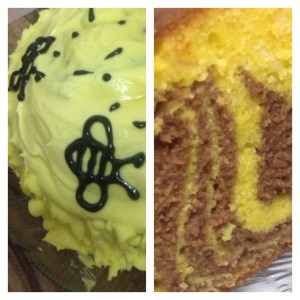 Basic Birthday Cake
Ingredients
Basic Birthday Cake ( this one is based on Sweet Honey Bee for a girl)

Lovely Moist Cake.

2 1/4 cups SR flour

1 cup sugar

Pinch salt

1 teaspoon vanilla

1 cup vegetable oil

1 cup yoghurt

4 eggs

3 tablespoons cocoa

Honey Butter Cream Frosting

1/2 cup butter

2 cups icing sugar

1/4 cup honey

1/4 cup sour cream
Instructions
Combine the four and salt and set aside.

In another bowl beat the sugar , oil and eggs and then add the vanilla.

Add the yoghurt and the flour alternately to the egg mixture , ending with the flour. DO NOT OVER MIX.

Divide the batter in half and add the cocoa to one half .

### At this point let your imagination go according to what colour theme you want ####.

Begin in the centre of your SC or cake tin. Drop in 2 tablespoons of one colour and directly on top of that colour drop 2 tablespoons of the other colour. Continue this way dropping in the centre alternate 2 tablespoons of each colour until all used.

Place in your lined and sprayed SC ( or raise up if in a cake tin) . Cook on high approx 2 hours , with a tea towel under the lid , until skewer comes out clean. If the sides are cooking faster than the Middle switch to low to finish off. Decorate according to your theme.

Honey Butter Cream Frosting

Beat the butter until light and fluffy, add the icing sugar until all combined. Mix in the sour cream and honey. ## put the cream in the fridge before decorating so it holds its shape.