Submitted by Lisa Casey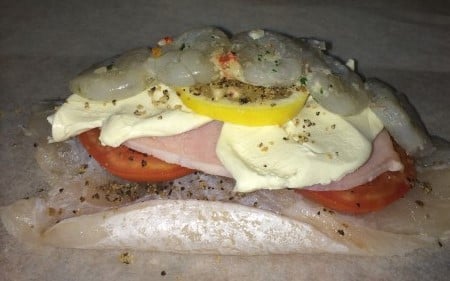 Barramundi and prawns
Ingredients
4 barramundi fillets

20 prawns

4 slices of bacon

8 slices of tomato

Cream cheese

4 slices of lemon

Lemon pepper seasoning
Instructions
On 4 separate pieces of baking paper, lay out the barramundi, 1 on each,

Season with the lemon pepper,

Then put 2 slices on tomato, more seasoning,

Then a piece of bacon,

Spread over some cream cheese,

Then a slice of lemon and then then 5 prawns on each,

Finally a little bit more seasoning.

Wrap it up in the baking paper tightly. Cook in SC for 1 hour and 15 minutes on high.