Submitted by Narelle Youngs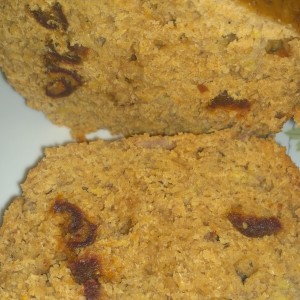 Banana Date Loaf
Ingredients
3 ounces/90 grams cinnamon butter or butter with 1 teaspoon cinnamon

1/4 cup sugar

1/4 cup brown sugar

1 teaspoon grated orange rind

2 eggs

3/4 cup chopped dates

3 medium sized ripe bananas

2 1/2 cups wholemeal self raising flour

1/3 cup orange juice
Instructions
Beat butter and sugars together until light and creamy.

Add orange rind, then eggs, one at a time, beating well after each addition.

Stir in dates and mashed bananas, mix well.

Fold in sifted flour alternately with orange juice.

Pour batter into a greased loaf tin.

Place on egg rings in the slow cooker with 1 cup of water in the bottom.

Cook on high for 2-3 hours with teatowel under the lid until a skewer inserted in the middle comes out clean.

Serve warm with butter or lemon butter or cold with a lemon icing.