Submitted by Robyn Clark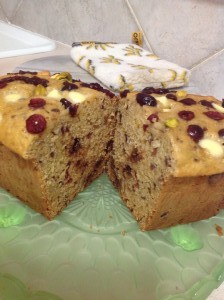 Banana custard trail mix loaf cake
Ingredients
1 cup SR. Flour

1 cup SR. Wholemeal flour

1 teaspoon baking powder

1 tablespoon brown sugar

2 eggs

1 tablespoon honey

1 cup low fat custard

1 mashed banana

1 teaspoon vanilla
Instructions
Mix dry ingredients.

Mix wet ingredients .

Add together and mix in 1/2 cup , lightly blitzed trail mix and 1/4 cup dark chocolate drops.

Put in a lined loaf tin and sprinkle top with extra trail mix.

SC for approx 2 hours on high with tea towel under the lid.

Check after 1 1/2 hours.