A flavorsome and hearty potato soup that is easy to prepare and lovely to eat
Submitted by Darren Comley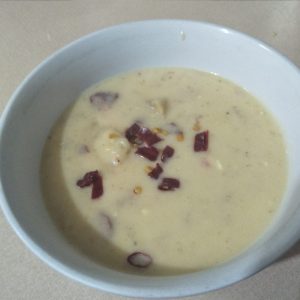 Baked Potato Soup
A flavorsome and hearty potato soup that is easy to prepare and lovely to eat
Ingredients
1 kg potatoes. diced.

10 slices short cut bacon, diced

1/2 stick chorizo, diced

3 chillis, chopped roughly, seeds in

4 cups chicken stock

1 onion, diced

3 teaspoons minced garlic

4 tablespoons butter

1/3 cup plain flour

1 can evaporated milk

2 cups shredded cheddar cheese

1/2 cup sour cream

Salt and Pepper to taste

Optional toppings - chives, shredded cheese, spring onions, bacon, sliced chilli, parsley
Instructions
Add diced potato, onion, garlic, bacon and chicken stock to the slow cooker. You can fry the bacon, onion and garlic first if you prefer.

Season with salt and pepper and cook on low for 6-8 hours til potatoes are fork tender.

In a saucepan, melt the butter, stir in the flour and gradually add the evaporated milk.

Stir this mixture to smooth then gently simmer until the mix is a creamy thickness.

Add the mix into the slow cooker and stir to combine.

Mash 3/4 of the potatoes, leaving the rest in dices.

Add the sour cream and cheese to the slow cooker and stir to combine

Test taste for seasoning

If soup is too thick at this point, add more chicken stock (start with one extra cup) and stir through

Cook another 30 minutes

Serve with optional toppings of your choice

I reconnected with an old high school friend Kellie (30 year reunion) and she provided me with this recipe, which I tweaked.

If you like your soup chunkier, only mash half the potatoes. Would be awesome for dipping half a french tick/roll covered in melted cheese.