Submitted by Lisa Beaton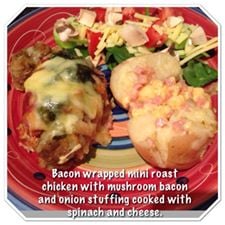 Bacon wrapped mini roast chicken with mushroom, bacon and onion stuffing cooked with spinach and cheese
Ingredients
2 large chicken breast, sliced in halves to make 4 pieces

4 rashers of bacon

Handful of spinach

Cup of cheese

Stuffing...

2 tsp butter

1/2 onion, finely chopped

Handful bacon pieces

2 mushrooms , finely chopped

2 cups breadcrumbs

1 egg, beaten

1/2 cup chicken stock

2 tsp sage

1 tsp garlic powder

1/2 tsp onion powder

salt and pepper to taste

Dash of water if needed
Instructions
Melt butter on stove, then add in the chopped onion ,bacon pieces and mushrooms to brown.

In a large bowl combine the breadcrumbs, egg and chicken stock , followed by the butter, onion, bacon pieces and mushrooms and the rest of the dry ingredients, mix well until combined. If not wet enough add a dash of water. Once all combined separate and roll into 4 logs to fit onto the chicken.

Slice the chicken breasts in halves to get 4 pieces, place the stuffing log in the middle then roll tightly with a rasher of bacon and hold together with toothpicks.

Place in slow cooker with 3/4 blobs of butter then cover with spinach.

cook on low 5/6 hours depending on your slow cooker.

Half way through cooking sprinkle half cup cheese over the top and do the same at last 30 minutes remaining with the other 1/2 cup cheese or can sprinkle the last lot of cheese at the end and place under grill or in oven 5/10 minutes to crisp up if preferred.

Serve with vegetable or garden salad.