Submitted by Jenny Krahe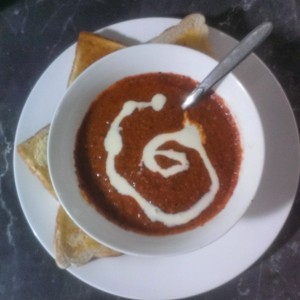 Bacon, Tomato and Basil Soup (GF)
Ingredients
2 tbs oil.

2 cloves garlic, diced

2 tsp sweet chilli sauce

3 cans of diced tomato's

3.5 cups of water (875mL)

6 rashers of bacon

2 onions, chopped

Basil (I used dried - but fresh would be divine)
Instructions
Combine bacon onion and garlic and fry till browned in a fry pan

Add bacon onion and garlic mixture to slow cooker and add all ingredients except basil and bring to a high temperature then switch to low.

Add basil... About 3 tbs (of dried) but to your taste.

Cook for 6-8hrs Low

Blitz with a hand mixer and serve with cream and toasted bread.