Submitted by Debbie Manteiga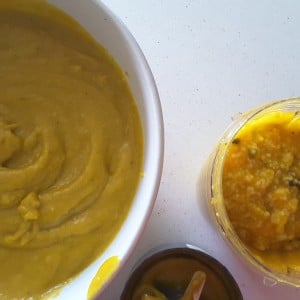 Babies Savoury Vege with Cous Cous
Ingredients
1 pumpkin (about the size of side plate)

1 parsnip

2 potatoes

2 big carrots

1 big handful of spinach

2 kumara (sweet potatoes)

Half a floret of broccoli

2 large apples

2 tsp chicken stock powder

Enough water to fully submerge all vegies in the slow cooker

1/2 cup of dry Cous Cous at the end
Instructions
Peel, deseed, and chop all vegies (the smaller it's chopped the quicker it will cook... I chopped mine into fingerprint sized pieces) straight into slow cooker.

Add stock powder and water and cover to cook on high until all vegies are easily mashable.

Add the Cous cous. Stir it through and put lid back on to sit to cool a little.

Then blitz in food processor (I used nutribullet) to desired consistency.

Then into serving sizes to freeze what won't be used within a day or two.