Submitted by Michelle Lee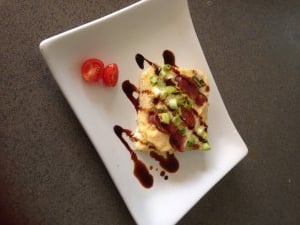 Asian Breaky Eggs
Ingredients
6-7 eggs

Dry rice vermicelli (I used the wai wai brand used one square)any sort will be fine. 1cup or the squares are 60 grams each.

2 lupchong Chinese sausage

2 shallots chopped

1 table spoon sesame oil

Soy sauce or abc sauce to serve.

(Chilli if desired)

Salt pepper
Instructions
1.Cook noodles in boiled water from kettle put in bowl for 5 mins then drain.

2. Mix eggs ,noodles sesame oil together in a bowl. Add chilli if desired. Season s/p

3.put into a dish that fits in sc. Bit of water in bottom and slightly raised.

4. Put shallots and sausage on top.

5. Put in sc 1 hr and 20 until firm in middle.

6.cut and serve with soy sauce. You can have with steamed rice or just with toast.