Submitted by Robyn Clark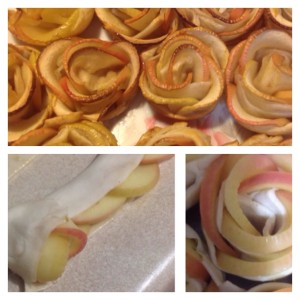 Apple Roses - Slow Cooker Style
Ingredients
Apples

Lemon or orange juice

Puff pastry sheets

Cinnamon and sugar
Instructions
Slice an apple very finely and place in a bowl with 1 cup of water and some lemon or orange juice.

Microwave on high about 4 mins. Drain and cool .

Stretch out a sheet of puff pastry on a floured bench and cut six strips.

Spread each strip with your favourite jam (I did apricot) sprinkle with some mixed cinnamon and sugar.

Place the apple slices along the edge of the pastry with the skin side arched outwards.

Fold the pastry up along the strip so the apple sits inside. Roll up from one end to the other to form the rose .

Sprinkle with more cinnamon and sugar mixture.

Line your SC with baking paper and cook on high for 2-3 hours , tea towel under the lid.

Brown in the oven for a few minutes if you want.

Lovely with fresh cream or Ice-cream.