Submitted by Shannen Edge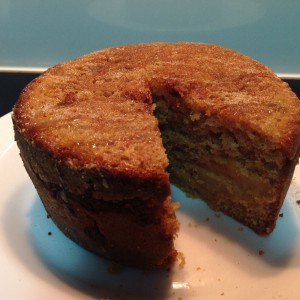 Apple cinnamon tea cake (from scratch)
Ingredients
1 Granny Smith Apple (peeled cored and sliced and soak in lemon juice)

60g butter

1 egg

1/2 cup milk

1/2 tsp vanilla essence

1/2 tsp cinnamon

1/2 cup caster sugar

1 cup SR flour

Cinnamon sugar for sprinkling (Optional)
Instructions
Peel core and slice Apple and soak in lemon juice and set aside.

Combine butter and sugar in mixer.

Add egg, vanilla essence, and cinnamon. Mix until combined.

Add flour and milk alternately while mixing until all combined.

Pour mixture into buttered and floured slow cooker insert.

Push Apple slices into top anyway you like (unless very thin, they will sink to the middle anyway)

I added a sprinkle of cinnamon sugar over the top.

Pop tea towel under lid.

Cook on high for 1 1/2 - 2 hours until skewer comes out of the centre clean.
Notes
Turn slow cooker every half hour to avoid burning (1.5L slow cookers have a hot spot)

To make non stick coating for slow cooker insert (cake comes out easier and isn't wrinkly like with baking paper) Rub the slow cooker insert with margarine/spread on some paper towel, then coat with some flour. Tip out excess flour and set slow cooker aside.