Submitted by Honnie Barnard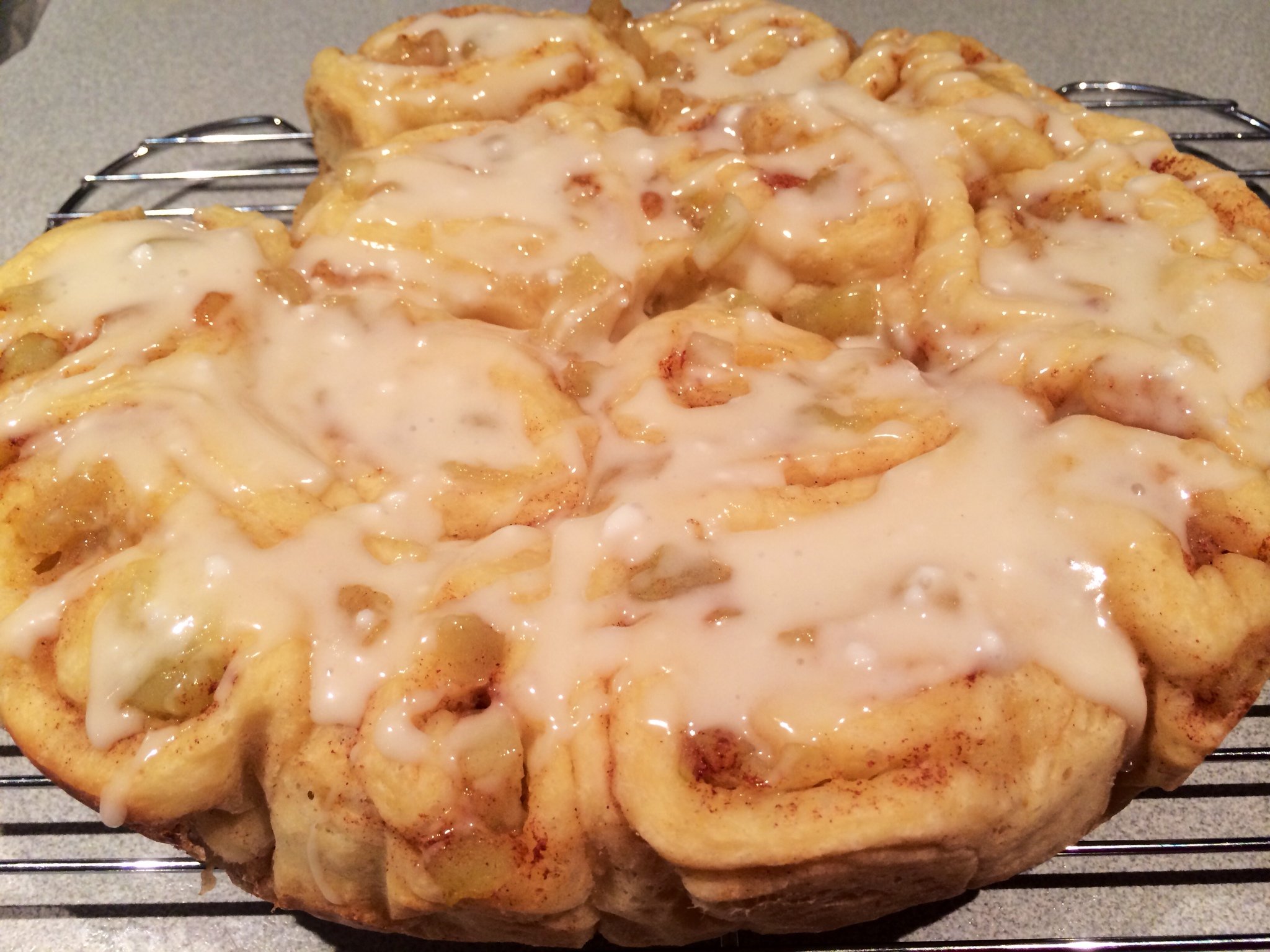 Apple & Cinnamon Scrolls
Ingredients
Rolls
2 and 3/4 cups (345g) plain flour

3 tablespoons sugar

1 teaspoon salt

2 teaspoons yeast (7g)

1/2 cup (120ml) water

1/4 cup (60ml) milk

2 and 1/2 Tablespoons (40g) unsalted butter

1 large egg
Filling
3 Tablespoons (45g) unsalted butter, softened to room temperature

1 tin of apple pie filling cut into small pieces (or fresh apples stewed and well drained to remove excess moisture)

Generous sprinkling of Cinnamon Sugar
Glaze
1 cup (120g) icing sugar

1 teaspoon vanilla extract

2-3 Tablespoons milk
Instructions
1. Set aside 1/2 cup of flour. In bowl, add all the dry ingredients together, set aside

2. Heat the water, milk, and butter together in the microwave until the butter is melted (about 1 min on high). Stir the butter mixture into the flour mixture. Add the egg and only enough of the reserved flour to make a soft dough. Dough will be ready when it is an elastic consistency.

3. On a lightly floured surface, knead the dough for a few minutes. Place in a lightly greased bowl (I used non-stick spray) and let rest for about 10 minutes.

4. After the dough has rested for 10 mins, roll the dough out in a 30cm x 20cm rectangle. Spread the softened butter on top. Spread the applie and top with a generous amount of cinnamon sugar. make sure the apple topping is not too wet or the dough will go soggy. Roll up the dough tightly into a log and cut into 12 even pieces (about 1 - 1.4 cm thick). Line your slow cooker with baking paper and place the dough laying flat.

5. Put a tea towel under the lid and set to low for about 30-40 to allow the dough to rise.

6. After the rolls have increased in size, turn the slow cooker to high and cook for a further 30-45 mins.

7. When the rolls are cool, make the glaze by mixing the icing sugar, vanilla and milk together until smoother and then drizzle over the rolls.

8. Rolls are best eaten the same day, but will last a few days in a air tight container.