Submitted by Robyn Clark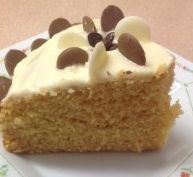 Anzac Cake
Ingredients
1/2 Cup Golden Syrup

125 g butter

2 Cups SR Flour

1/2 cup castor sugar

1/2 cup coconut

2 eggs ( lightly beaten)

1 cup milk
Instructions
Combine butter and golden syrup in a saucepan and melt together.

Combine sifted flour,sugar and coconut in a bowl and add the syrup mixture.

Gradually beat in the combined milk and eggs.

Place mixture in a lined SC or use a cake tin raised on egg rings. Tea towel under the lid and cook on high 2 hours. Check after 1 1/2 , cake will be a light golden colour when done.

Icing...... 1 teaspoon honey, 1 teaspoon vanilla , 60 g , butter , 1 1/2 cups icing sugar, 1 Tablespoon hot water.

Cream the butter,honey and vanilla and gradually add the icing sugar and hot water. Beat until smooth.