Submitted by Emma Webster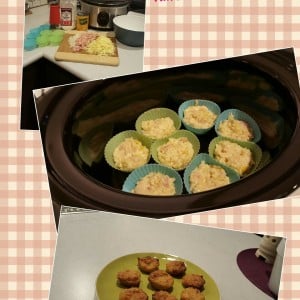 Anyone 'Can' do bacon and cheese muffins
Ingredients
1 x 420 gram can of Creamed corn

1 can of self raising flour

1 can of grated tasty cheese

150 grams of diced bacon

Quarter of a brown onion diced fine

Dash of milk

Salt and pepper to taste
Instructions
1. Turn slow cooker to high to warm up whilst preparing ingredients

2. Dice onion and bacon and cook in microwave dish in microwave for 2 minutes

3. In a bowl add can of creamed corn, using the can to measure, then stir in the can of flour and the can of cheese.

4. Add a dash of milk to help combine

5. Stir in the bacon and onion including any liquid in the microwave dish as this adds flavor

6. Stir in salt and pepper to taste

7. Spray 12 silicone moulds with olive oil or grease with butter and fill each mould

8. Line the slow cooker with the moulds, it doesn't matter if the moulds are close together, the mixture doesn't rise or expand very much

8. Cook for 2 hours on high with the lid on the slow cooker and tea towel under the lid

Enjoy warm with a bowl of soup or also great for lunchbox snacks. Muffins will come out quite dense, almost like quiche!