Yes you read that right – 40 cloves of garlic!
Submitted by Paulene Christie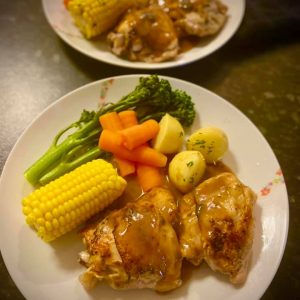 40 Clove Garlic Chicken
Yes you read that right - 40 cloves of garlic!
Ingredients
10 chicken thighs (bone in, skin on - not fillets)

1.5 tablespoons salted butter

Salt and Pepper to season

2 heaped teaspoons of chicken stock powder

40 cloves of garlic, peeled *see notes below in method *

1/2 cup white wine (I used Jacobs Creek Sav Blanc)

8-10 sprigs of fresh thyme

2 Tablespoons of fresh parsley chopped

(Optional : Chicken gravy powder/granules)
Instructions
Lay chicken out on a board or dish, skin side up. Season with salt and pepper and sprinkle chicken with the dry chicken stock powder.

Using a searing slow cooker (or fry pan if you don't have a searing slow cooker) melt butter.

Place chicken thighs skin side down and sear briefly until lightly browned for colour and maximum flavour.

If you did it in your searing slow cooker simply turn chicken to now face skin side up and return to slow cooking mode. (If you had used a pan for this now is the time to add your chicken and any cooking butter etc into your slow cooker)

Add wine and garlic cloves around chicken.

Add thyme and parsley.

Cook on LOW for 5hrs.

If you do not wish to make gravy simply remove chicken pieces from cooking liquids and serve with seasonal fresh vegetables. We serve with baby potatoes, steamed carrot, fresh corn on the cob and steamed broccolini
Optional gravy
If you wish to make gravy remove chicken, cover and set aside to keep warm.

Strain cooking liquids to remove all solids like garlic and herbs so only liquid remains. Add liquid to a small saucepan on stove top and add 2-3 tablespoons of chicken gravy powder/granules while whisking to reduce and thicken to gravy consistency

Plate up chicken with vegetables and pour over your garlic chicken gravy 🙂
Notes
I buy a bulk bag of peeled garlic cloves from my local produce store, Some wholesale shops have them too. It's $6 for 1kg. We LOVE garlic! I freeze the rest until I need them. However if peeling fresh from bulbs it would be approximately 2 full heads of garlic.