Submitted by Charlotte Telford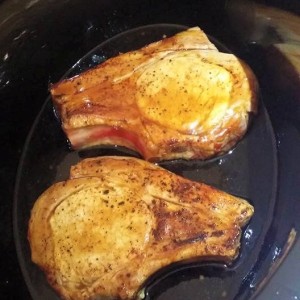 4 ingredient sticky pork cutlets
Ingredients
2 pork cutlets/chops

4 Tablespoons of honey

4 Tablespoons of soy sauce (sweet abc brand is best)

3 Tablespoons sweet Chilli sauce

1 Tablespoon of Worcestershire sauce

Salt & pepper to taste.
Instructions
Oil fry pan (lightly)

Salt & pepper pork & brown both sides.

Add all ingredients in to the slow cooker & then add pork. Coat Both sides in the marinade. Place tea towel under lid & cook for 7 to 8 hours on low.

Flip pork occasionally.

PLEASE NOTE: While Charlotte submitted her recipe as she created it, we have found feedback from several that this recipe was overcooked+ in the time frame given. Perhaps Charlottes cooker was much slower, as some can be. We suggest this recipe is cooked for only 3-4hrs in most cookers.