Submitted by tabitha salisbury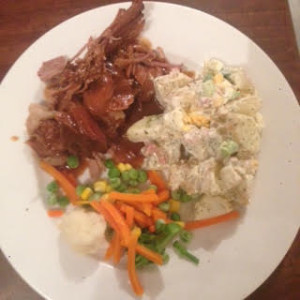 3 ingredient simple mushroom lamb roast
Ingredients
1 Lamb Roast

1 large tin of condensed mushroom soup

powdered gravy

You will also need alfoil for cooking.
Instructions
Cut 2 large long pieces of alfoil and place the in a cross over each other.

In the middle of the 2 cross sections of the alfoil place the Lamb Roast ensuring that the alfoil will wrap around the Roast to form a seal.

before wrapping the roast pour mushroom soup over the top of the roast and wrap trying not to loose any of the soup.

It is easier to wrap starting with the bottom layer of alfoil then folding over the top layer of alfoil.

Cook for 6 hours on high for the fall apart texture.

When the lamb is cooked pull out of slow cooker remember its hot and place in a dish to hold the soup as you unwrap it.

Unwrap and pull the roast out leaving the soup mix, then pour the soup mix into a gravy serving dish then add spoon by spoon of gravy powder stirring as you go along until you get the desired texture and thickness of the gravy as each person is different.

Serve with a lovely potato, egg n bacon salad, fresh salad or mash. Delish.