Submitted by Paulene Christie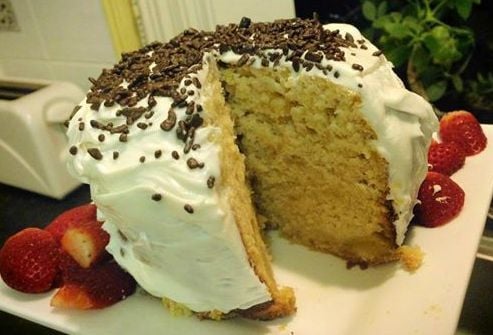 2 Ingredient Cake
Ingredients
1 Packet or Box Cake mix (any flavour you prefer) - I use 320g mix or larger

1 x 425g Can of fruit in juice (any fruit you prefer)
Instructions
1. Combine the cake mix (dry from the box - no added ingredients to it at all) and the can of fruit (juice included)

2. Pour this into a slow cooker that is greased or lined with baking paper

3. Cover with a tea towel under the lid then cook on HIGH for 1.5 - 2hrs depending on your slow cooker or when skewer comes out clean

I did mine in my little 1.5L cooker hence the lovely high result but a larger cooker will yield a lower cake

The cake pictured is a vanilla cake mix and a can of mango slices - you can see the chunks of mango through the finished cake.

Other great combinations would be chocolate cake and cherries or Vanilla cake and fruit salad.

It doesn't get much easier than this!